Model U New Size 5
Bigger, for big kids!
Fans of PonyCycle® have spoken — and the Model U Size 5 is here!
The original PonyCycle® toy brought joy to children all over the world — as the first-ever true pony riding experience right from home. Needless to say, parents were thrilled — but have since requested an even bigger size pony for their growing kids!
As the creators of the first ride on horse toy powered by human motion simulation, we are only too eager to grant their wishes — and make a PonyCycle® large enough for pre-teens and even teens! The Model U Size 5 is a PonyCycle® toy for pre-teen and beyond, designed to extend the lifetime of our iconic ride-on pony toy for kids as they grow — and the joys of riding to children of all ages.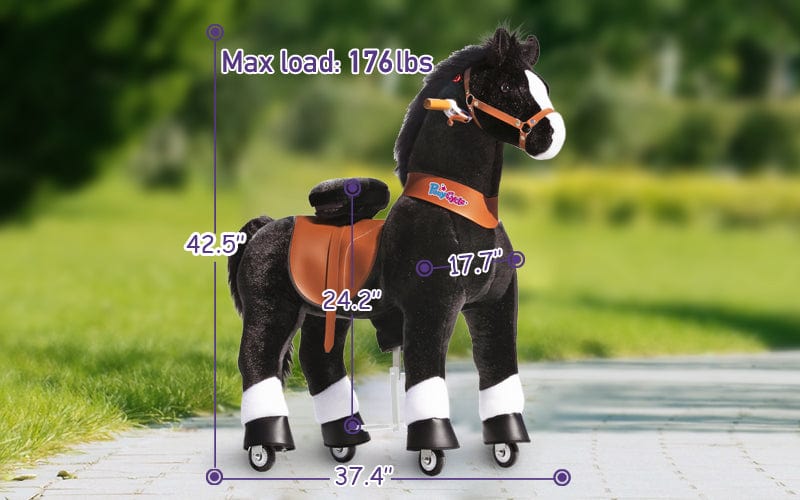 Like an "older" pony, the Model U Size 5 is big enough to accommodate older kids!
At a height of 42.5 ″,  width of 17.7 ″ and length of 37.4 ″, the Model U Size 5 is perfect for age groups 7 to 12 and kids up to 65″ tall. It boasts an impressive weight limit of up to 176lbs — making the perfect PonyCycle® toy for teenagers (and even grown-ups within those limits who might be curious about a PonyCycle® toy for adults!). 
Designed for Comfort, Stability & High-Performance
The pony features a secure and highly durable frame built with the highest standards of safety and stability. Its unique ergonomic design offers ideal spacing between handle, seat and feet positions for smooth and comfortable movements — and the "rides like a real pony" experience.
Safety Hand Brake
Just like a bicycle, the pony is equipped with a safety hand brake that brings it to a swift-yet-steady stop even at speed — for optimal safety and peace of mind.
Built-In Wheel Stability
Our ideally sized wheels are designed to maintain even wheel-to-ground contact area, ensuring balanced riding power and friction for optimal stability and a smooth, effortless ride.
Lifelike Pony Sound
The pony can make clear and genuine pony sounds that include clips, neighs and yee-haws with the push of button
Our commitment to high-quality isn't just in the ride, but in creating a true pony experience that you can see and feel. We are focused on improving our details, so PonyCycle® appeals to children's imagination- and looks and feels like a real pony!
Realistic Hair and Fur
From its cuddly hide to soft mane, the pony's realistic hair and fur are made from high-quality fabrics that kids will love. Our deep and genuine color tones are based on real horses and inspire fun and imagination.
Realistic Shape
The PonyCycle® product design is based on real pony models with a faithful outline of the stout and graceful pony figure.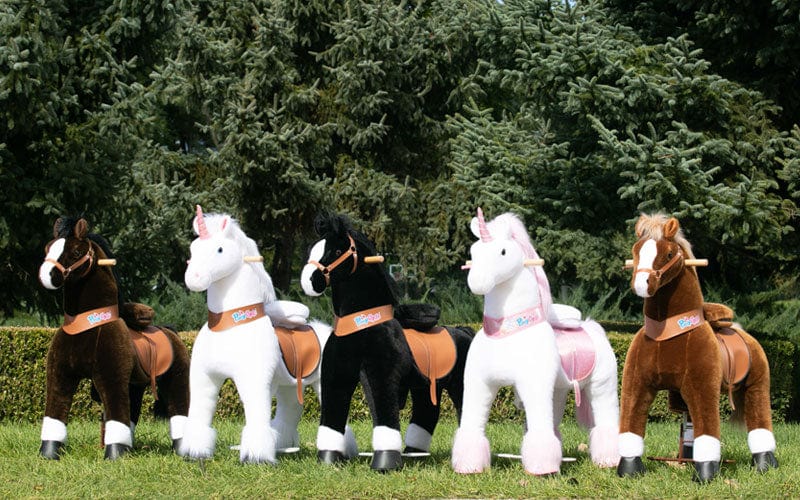 Comes in Different Colors and Types
Choose from PonyCycle® Horse or PonyCycle® Unicorn in several color choices that include brown, chocolate brown, black or white body and corresponding mane colors (including pink mane option for PonyCycle Unicorn). 
Brought to you by popular demand, the PonyCycle® Model U Size 5 is the new and perfect gift for 7-year-old girls and boys and up. Ride-on toys are a unique opportunity for children of all ages to experience real-life play thanks to modern materials, designs and features. We are excited to cater to all youth age groups from kids to pre-teen and even teenagers with the new and bigger PonyCycle® horse!
At PonyCycle®, we believe in the magic of playtime, and that children should have the means to a more traditional and healthy choice anytime. Imagination and experiencing the senses is—and always will be—an important part of child development and growing up healthy and strong. That's why the PonyCycle® invites kids to a memorable indoor or outdoor playtime experience — based on a true-to-life pony ride!
1 comment
Hola buenas noches, me interesan 2 caballitos #5 uno para niño y otro para niña